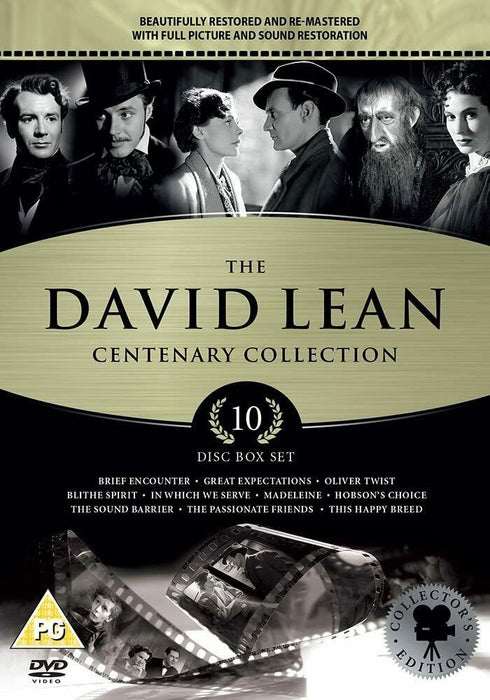 The David Lean Centenary Collection
Save

Liquid error (snippets/product-badge line 32): Computation results in '-Infinity'

%
SKU
RS The David Lean Centenary Collection
Collection of ten classic films from the award-winning British director. 
In 'The Sound Barrier' (1952), Ralph Richardson stars as an aircraft manufacturer whose all-consuming passion with making the ultimate supersonic jet kills both his son and son-in-law and almost destroys him and the rest of his family. 
In 'Hobson's Choice' (1953), Lancashire bootmaker Henry Horatio Hobson (Charles Laughton) keeps a tight rein on his three daughters until his eldest, Maggie (Brenda De Banzie), marries his assistant, Willie Mossop (John Mills), and sets him up in his own bootmaking firm. To Hobson's consternation, Willie has soon become his father-in-law's main business rival. 
In 'Blithe Spirit' (1945), cynical writer, Charles Condomine (Rex Harrison), asks a medium (Margaret Rutherford) to hold a seance in his house so he can collect material for his latest book. No one is more surprised than the medium when she inadvertently conjures up the ghost of Condomine's first wife (Kay Hammond). The ghost refuses to go away, preferring to taunt her less sophisticated replacement (Constance Cummings). 
In 'Brief Encounter' (1945), a respectable, happily married doctor (Trevor Howard) comes to the aid of an equally upstanding housewife (Celia Johnson) when a passing train blows cinder into her eye. Thus begins a tentative romance, conducted in the tearooms and railway cafe of a small English town. 
In 'Great Expectations' (1946), orphan, Pip (Anthony Wager), befriends an escaped convict before being elevated to higher circles as the companion of Miss Havisham and her niece, Estella (Jean Simmons), with whom the boy quickly falls in love. When the adult Pip (Mills) discovers a mysterious benefactor has paved the way for him to become a gentleman, he assumes Miss Havisham is responsible. 
In 'Oliver Twist' (1948), Oliver (John Howard Davis) is a young orphan boy who is expelled from the workhouse run by Mr Bumbel (Francis L. Sullivan). After becoming an apprentice to an undertaker, Oliver decides to run away to London, only to meet the Artful Dodger (Anthony Newley) and fall amongst his gang of thieves, led by the scheming Fagin (Alec Guinness). 
In 'Madeleine' (1949), Madeleine (Ann Todd) is the eldest daughter in a respectable Victorian Glasgow family. She begins an affair with Frenchman, Emile L'Anglier (Ivan Desny), without her father's knowledge. Meanwhile, Madeleine's father insists on her seeing various suitors. When Madeleine becomes engaged to William Minnoch (Norman Wooland), Emile threatens to reveal their relationship.
 'The Passionate Friends' (1944) is an episodic tale of an average working class family in the interwar years. The story traces the melodrama caused by illicit affairs, family bereavement, the first ripples of women's liberation and political instability in the country during the General Strike. It highlights the fact that these internal wranglings are all happening in one house in an average street, and that each average house has its own dramatic stories to tell. 
Finally, 'In Which We Serve' (1942) is a World War II drama about a destroyer, told through flashbacks and the reminiscences of the surviving crew after their beloved ship is torpedoed.