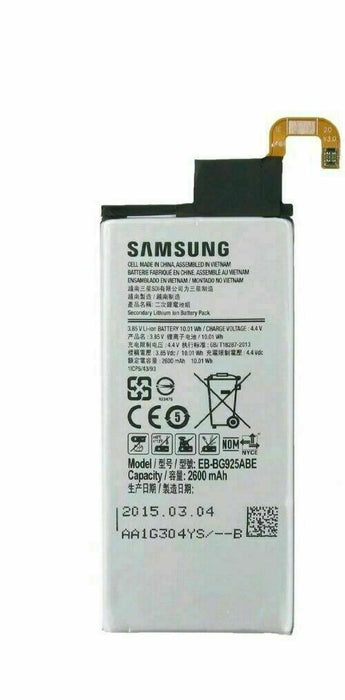 New Samsung Galaxy S6 EDGE SM-G925 Battery EB-BG925ABE Replacement battery
Save

Liquid error (snippets/product-badge line 32): Computation results in '-Infinity'

%
We are a highly rated eBay seller with fully stocked items in the United Kingdom Northern Ireland.
Please read the description IN FULL to avoid yourself starting
unnecessary issues with your service and product.
Thanks for looking at our
Samsung EB-BG925ABE  Battery 2600mAh 3.7v 10.01Wh
Knowing you are purchasing a  battery gives you that ease of mind knowing you are getting a battery that was designed especially for that phone. 
This EB-BG925ABE is great as a replacement, a spare or if you're going on that business trip and need to ensure you receive that important call. 
You should never have a limit to the fun you can have with your phone or experience a moment where you can only watch part of a movie, start a game but not able to finish it or read half of a story as the EB-BG925ABE will ensure your phone has the life needed for this. 

The Samsung battery provides hours of enjoyment with your phone and leaves you feeling like there was never an issue with your phone.

Specifications: 

Samsung Rechargeable Li-Ion Battery

Samsung Battery EB-BG925ABE  Battery 2600mAh 3.7v 10.01Wh

Compatibility: 
For Samsung Galaxy S6 Edge

We only supply authentic, batch tested and fully EU/UK regulation compliant stock
What's in the package colour may vary slightly and labelling identity may be covered dust and very slight storage marks may occur but guaranteed brand new
Please Keep reading description regarding batteries and liquids
Before you buy, this is very Important we do not offer 24-7 email support, please don't email us expecting an immediate reply at anti-social hours We work during the week and may not be able to get to your email immediately you must accept these conditions before purchasing.
Safe usage, storage and disposal
Lithium-ion (Li-ion) batteries/cells can be dangerous when mistreated. When purchasing from us, the purchaser/user assumes all risks associated with their use, charging and discharging and their safe storage and/or transport. The Tech Shed its suppliers or original manufacturers cannot be held liable for injury to person(s) or property or any other form of loss or damage caused by improper use of these products.
Never carry loose cells – they should be suitably cased at all times when not in use. (We supply free cases with every order)

Do not short batteries with metallic objects.

Always use a battery charger designed for the cells you are charging.

Never leave a battery charger unattended.

Never completely discharge batteries. (The cut off for most cells is 2.8v or 2.5v)

Check your wraps and insulators regularly. Replace worn or damaged wraps before continuing use.

Do not expose to extreme heat or cold or sudden fluctuations between the two.

Always dispose of end of life cells at your local WEEE recycling

 

centre
Dispatch
We will dispatch within 1 to 2 days if not sooner I.E, on the day of purchase. However at times, we have noted delays in delivery, this isnt us delivering it, please try to avoid becoming impatient and try to allow time to deliver during busy or extra special circumstances, such as poor weather, busy periods and pandemics which have affected our postage in the past.
Over Seas Shipping
We ship to different locations, if you are unable to purchase then we cannot ship to you, however if you feel this isnt correct please email us to discuss how we can resolve this for you.
Delivery
We dispatch Units within 1 to 2 days of purchase .
If you are keen to get the unit you want really quickly at economy post, please try somewhere else as we cannot provide overnight delivery with your unit at low cost, it can arrive within 3 working days up to 14 days dependent on where you live and what you have purchased. Prohibited items cannot be flown internationally unless you are willing to cost the expense yourself and allow a courier to fly these to you. We cannot absorb these costs due to flight restrictions and laws governing batteries.
Domestic transport is allowed. You must accept these conditions before purchasing.
All UK delivery use 1st or 2nd class signed for Royal Mail. Scotland, The Isles Except Northern Ireland do take longer and may at times have seized units from Royal Mail, we will simply send another out after 10 days of non delivery. Northern Ireland will receive packages quite quickly, as we are located there.
Unfortunately from time to time packages do get lost or delayed, Royal Mail won't class any item as missing until 14 working days (UK) has passed. If the package is lost or delayed a new item will be posted out, if the item is no longer available a full refund will be issued. If the unit arrives after refund, we will request you pay us back and send you a pay pal bill for the stock you haven't returned after refund. Please note: We always claim for losses from Royal Mail. Royal Mail won't tolerate abuse of the postal system. If you cannot receive this item through Royal Mail please contact us first.
The description on dispatch and delivery expectations must be agreed upon by you before purchasing
Customer Care. 
This is our livelihood and we would ask for the opportunity to fix the issues that you have encountered. Leaving us negative feedback before we solve the issue can ruin our business with the Ebay policies and to be honest its just not nice.
So, if you have any problem what so ever please message us through our eBay listings CONTACT-OTHER. We aim to reply to all eBay messages within 1 to 2 working days. If you have any problems or questions about your order, please contact us before leaving feedback. We are always happy to help and will resolve any issues you have with your order. However We don't attend emails 24 hours a day 7 days a week, this is a part time company. If you require a more personal attention with a personal and constant communication level please purchase elsewhere as we cannot provide this level of service for the prices you are purchasing our goods for.
The description on customer care expectations must be agreed upon by you before purchasing
Disclaimer: 
Poor handling of the products we sell can result in complications and or fail the entire unit if not installed correctly. The Tech Shed and the Battery Shop and the Tech Discount store cannot be held responsible for any damage or problems caused on the unit you are installing the battery before, during or after the repair process. If the battery is dead on arrival, please keep it on charge for 24 hours before applying for a replacement if the unit isn't taking charge we recommend to send a message to our support team we will answer your emails within 24 -48 hours, weekends excluded.
We will not accept liability for any or all claims put to us unless installed by a competent qualified person to handle the product you have purchased from us.
The description on ensuring that the product is managed and handled by a competent person for all items that may damage your person or a third party appliance must be agreed upon by you before purchasing
Return: 
We accept returns or replacements if there is anything you are not happy with please contact us first CONTACT-OTHER before just raising a case as this affects our selling rating and will affect how we do business, we are a small trader and depend on this business as an income. 
Raising cases with eBay without contacting us first creates a situation where we can only follow the processes of eBay, this will prevent replacements from taking place.
Returns must be returned otherwise you will not be refunded. WE DO NOT OFFER FREE REFUNDS WHERE YOU KEEP THE GOODS SO PLEASE DO NOT ASK. If you are outside the return time, then we must insist that you return this at your cost. Even if the goods are prohibited for postage the unit must be returned, if you have received it, then you can return it.
The description on returns must be agreed upon by you before purchasing
Before use: 
This is Vital Information, For all new batteries, we suggest that all of our customer should fully charge it up fully on 3 occasions before full usage, because the capacity requirement will strain out by inner PCB circuit.  In order to protect your battery life, you can full charge to 100% and drain 2 times. Charge the battery regularly, at least once a month. This is known as conditioning the battery. New batteries can fail if you don't keep a charge in them, so if after 3 months you decide to use your unit with no charge when you stopped using it, the battery will be dead and irreparable. This will invalidate your warranty.
The description on how to condition a battery must be agreed upon by you before purchasing