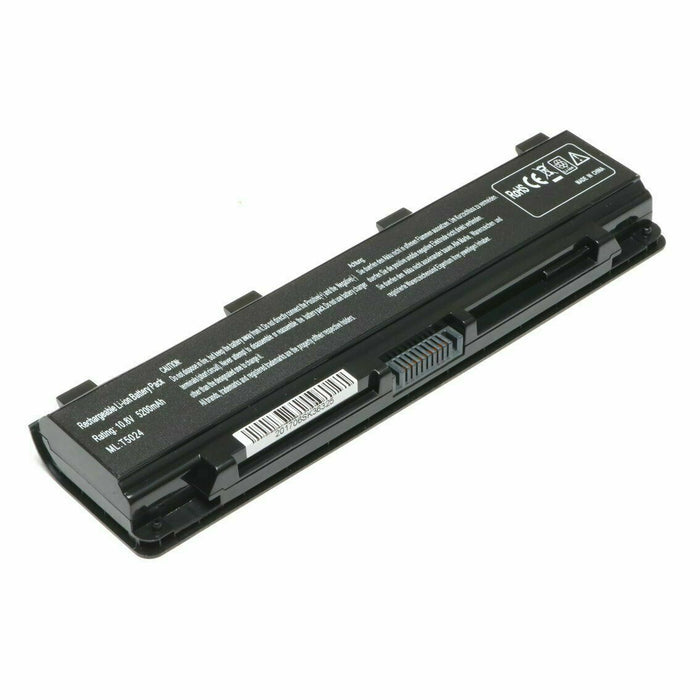 For Toshiba Satellite C850 L850 L870 M800 PA5024U-1BRS PA5023U Battery 5200mAh
Save

Liquid error (snippets/product-badge line 32): Computation results in '-Infinity'

%
Hi, Welcome to the Tech Shed, we have for sale 

Toshiba Satellite C850 L850 L870 M800 PA5024U-1BRS PA5023U Battery 5200mAh


Battery Type:






Li-ion
Battery Volt:

10.8V

Battery Capacity:                                                                   
5200mAh
Battery Colour:

Black

Battery Condition:

Brand new, 1 year warranty

Battery Model:

PA5024U-1BRS

                
Other Model Numbers that work with this unit

PA5023U PA5023U1-BRS PA5024U PA5024U1-BRS PA5025U PA5025U1-BRS PA5026U PA5026U1-BRS PA5027U  PA5027U1-BRS PABAS259 PABAS260 PABAS261 PABAS262 PABAS263

For Toshiba

For TOSHIBA Satellite L830D Series

For TOSHIBA Satellite L835 Series

For TOSHIBA Satellite L835D Series

For TOSHIBA Satellite L840 Series

For TOSHIBA Satellite L840D Series

For 

TOSHIBA Satellite L845 Series

For TOSHIBA Satellite L845D Series

For TOSHIBA Satellite L850 Series

For 

TOSHIBA Satellite L850D Series

For TOSHIBA Satellite L855 Series

For TOSHIBA Satellite L855D Series

For 

TOSHIBA Satellite L870 Series

For TOSHIBA Satellite L870D Series

For TOSHIBA Satellite L875 Series

For 

TOSHIBA Satellite L875D Series

For TOSHIBA Satellite M800 Series

For 

TOSHIBA Satellite M800D Series

For 

TOSHIBA Satellite M801 Series

For TOSHIBA Satellite M801D Series

For 

TOSHIBA Satellite M805 Series

For 

TOSHIBA Satellite M805D Series

For TOSHIBA Satellite M840 Series

For 

TOSHIBA Satellite M840D Series

For 

TOSHIBA Satellite M845 Series

For TOSHIBA Satellite M845D Series

For TOSHIBA Satellite P800 Series

For 

TOSHIBA Satellite P800D Series

For TOSHIBA Satellite P840 Series

For TOSHIBA Satellite P840D Series

For 

TOSHIBA Satellite P845 Series

For TOSHIBA Satellite P845D Series

For TOSHIBA Satellite P845t Series

For 

TOSHIBA Satellite P850 Series

For TOSHIBA Satellite P850D Series

For TOSHIBA Satellite P855 Series

For 

TOSHIBA Satellite P855D Series

For TOSHIBA Satellite P870 Series

For TOSHIBA Satellite P870D Series

For 

TOSHIBA Satellite P875 Series

For TOSHIBA Satellite P875D Series

For TOSHIBA Satellite S800 Series

For 

TOSHIBA Satellite S800D Series

For TOSHIBA Satellite S840 Series

For TOSHIBA Satellite S840D Series

For 

TOSHIBA Satellite S845 Series

For TOSHIBA Satellite S845D Series

For TOSHIBA Satellite S850 Series

For 

TOSHIBA Satellite S850D Series

For TOSHIBA Satellite S855 Series

For TOSHIBA Satellite S855D Series

For 

TOSHIBA Satellite S870 Series

For TOSHIBA Satellite S870D Series

For TOSHIBA Satellite S875 Series

For 

TOSHIBA Satellite S875D Series

For TOSHIBA Satellite Pro C800 Series

For 

TOSHIBA Satellite Pro C800D Series

For 

TOSHIBA Satellite Pro C805 Series

For TOSHIBA Satellite Pro C805D Series

For 

TOSHIBA Satellite Pro C840 Series

For 

TOSHIBA Satellite Pro C840D Series

For TOSHIBA Satellite Pro C845 Series

For TOSHIBA Satellite Pro C845D Series

For 

TOSHIBA Satellite Pro C850 Series

For TOSHIBA Satellite Pro C850D Series

For TOSHIBA Satellite Pro C855 Series

For TOSHIBA Satellite Pro C855D Series

For TOSHIBA Satellite Pro C870 Series

For 

TOSHIBA Satellite Pro C870D Series

For TOSHIBA Satellite Pro C875 Series

For TOSHIBA Satellite Pro C875D Series

For TOSHIBA Satellite Pro L800 Series

For TOSHIBA Satellite Pro L800D Series

For 

TOSHIBA Satellite Pro L805 Series

For TOSHIBA Satellite Pro L805D Series

For TOSHIBA Satellite Pro L830 Series

For 

TOSHIBA Satellite Pro L830D Series

For TOSHIBA Satellite Pro L835 Series

For 

TOSHIBA Satellite Pro L835D Series

For 

TOSHIBA Satellite Pro L840 Series

For TOSHIBA Satellite Pro L840D Series

For 

TOSHIBA Satellite Pro L845 Series

 

For TOSHIBA Satellite Pro L845D Series

For TOSHIBA Satellite Pro L850 Series

For 

TOSHIBA Satellite Pro L850D Series

For TOSHIBA Satellite Pro L855 Series

For TOSHIBA Satellite Pro L855D Series

For 

TOSHIBA Satellite Pro L870 Series

For TOSHIBA Satellite Pro L870D Series

For TOSHIBA Satellite Pro L875 Series

For 

TOSHIBA Satellite Pro L875D Series

 

For TOSHIBA Satellite Pro M800 Series

For 

TOSHIBA Satellite Pro M800D Series  

For TOSHIBA Satellite Pro M801 Series

For TOSHIBA Satellite Pro M801D Series

For 

TOSHIBA Satellite Pro M805 Series

For TOSHIBA Satellite Pro M805D Series

For TOSHIBA Satellite Pro M840 Series

For 

TOSHIBA Satellite Pro M840D Series

For TOSHIBA Satellite Pro M845 Series

For TOSHIBA Satellite Pro M845D Series

For TOSHIBA Satellite Pro P800 Series

For TOSHIBA Satellite Pro P800D Series

For 

TOSHIBA Satellite Pro P840 Series

For TOSHIBA Satellite Pro P840D Series

For TOSHIBA Satellite Pro P845 Series

For 

TOSHIBA Satellite Pro P845D Series

For TOSHIBA Satellite Pro P850 Series

For 

TOSHIBA Satellite Pro P850D Series

  

For TOSHIBA Satellite Pro P855 Series

For TOSHIBA Satellite Pro P855D Series

For 

TOSHIBA Satellite Pro P870 Series 

For TOSHIBA Satellite Pro P870D Series

For TOSHIBA Satellite Pro P875 Series

For 

TOSHIBA Satellite Pro P875D Series

For TOSHIBA Satellite Pro S800 Series

For 

TOSHIBA Satellite Pro S800D Series

For 

TOSHIBA Satellite Pro S840 Series

For TOSHIBA Satellite Pro S840D Series

For 

TOSHIBA Satellite Pro S845 Series

For 

TOSHIBA Satellite Pro S845D Series

For TOSHIBA Satellite Pro S850 Series

For 

TOSHIBA Satellite Pro S850D Series

For 

TOSHIBA Satellite Pro S855 Series

For TOSHIBA Satellite Pro S855D Series

For 

TOSHIBA Satellite Pro S870 Series

For TOSHIBA Satellite Pro S870D Series

For TOSHIBA Satellite Pro S875 Series
For 

TOSHIBA Satellite Pro S875D Series

 

 
Important Notice:  When you use the new battery at the first time, Please discharge the battery to 3% then charger it to 100%. New Lithium Ion batteries must be full charged and fully discharged 2 to 3 times before being fully conditioned. Please remember that a new Lithium-Ion battery's full performance and longevity is only achieved after 2 to 3 complete charge and discharge cycles. After you go through 2 to 3 cycles, you'll never have to condition your battery again.




 
Notice: 
     Please Carefully check the Part Number, Pictures and the compatibility before bidding for the item!  
Feel Free to contact us if you are not sure.
 Package Including:

 1*Battery in a foil bag